Версия 1.0.
Самый первый сайт. Первый курс, 2000 год. Сайт полностью на английском. Типовая страница — Under Construction. Вот что там было:
…I spy with my little eye… LAMERS! The're all around us! Coming from everywhere…
Is there any place in the world without this shit?
— Yes. It's on http://www.miheys.narod.ru

Note! You need to have at least 800х600 resolution
to view this site correctly.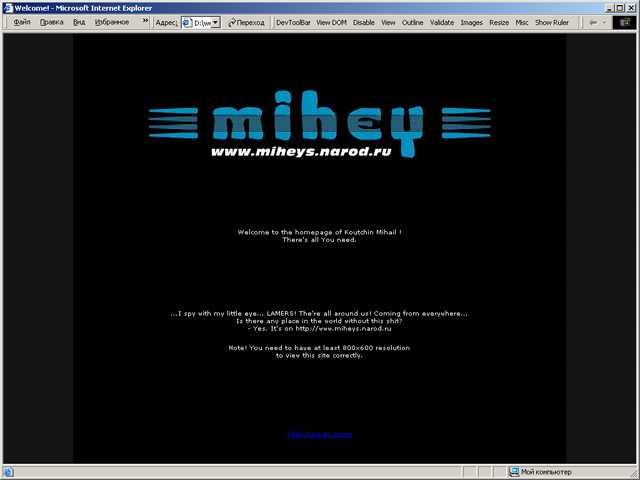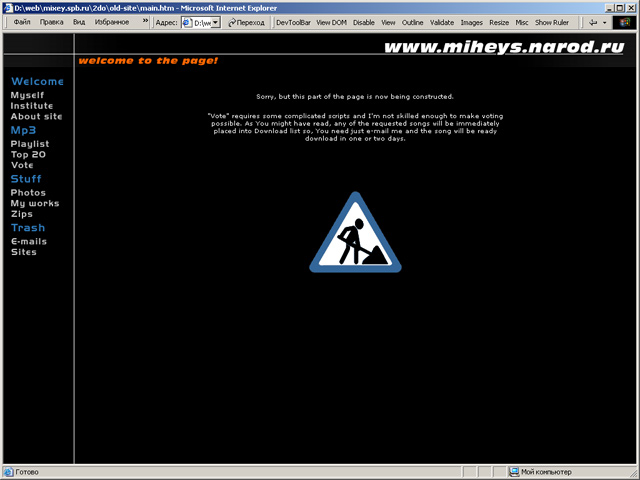 Потом этот сайт на хостинге просто удалили.
Версия 2.0.
Welcome everybody!
The three things You must remember when browsing this site are:
This version of the site was made by a beginner inWEB-design (I started 2 months ago), that's why all the pages are empty andnon-designed. Updates will be available as soon as I'll learn something new…
Everything here is made by me and is unique — you will not find any of the represented things nowhere (even mp3s are carefully grabbed and coded exclusively for You. Their quality is really great!).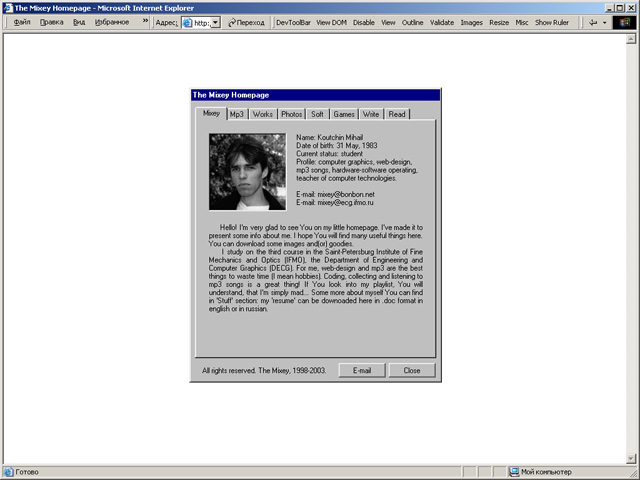 Версия 3.0.
Это уже серъезный сайт. Тут и PHP, и MySQL, и апач сам настроил. Все очень круто. Третий и четвертый курс моего обучения в ИТМО. Разделов много и тоже на английском:
Mixey
News
Photos
Drawings
Music
Sites by me
Tools
Links
Feedback
Guestbook
About site
The idea of such design came to me two years ago. The official date of its birth is the September 20th, 2001. The main reason I have made this site: nobody has the same (I hope that it is still so). I think that site is copyright and people can't use my idea.

The following programs were used: FAR Manager v.1.7x, Adobe Photoshop v.6.0 and 7.0, Icon Obtainer v.1.0. The site requires JavaScript support. This version is only for Internet Explorer v.4 or higher.

Thanks to:
Mur@n for some scripts he proudly presented. muransoft.spb.ru
Rodion Sosnov for the photos he made. rodz@aport.ru

The site is on air 2156 days, last updated March 8, 2003
Главная страница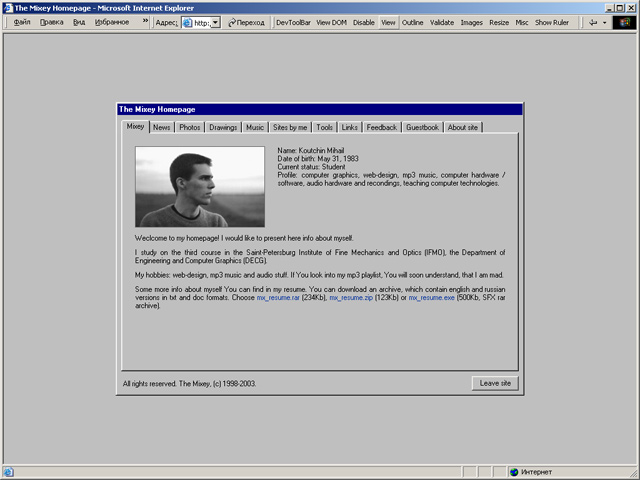 Раздел «Мои сайты»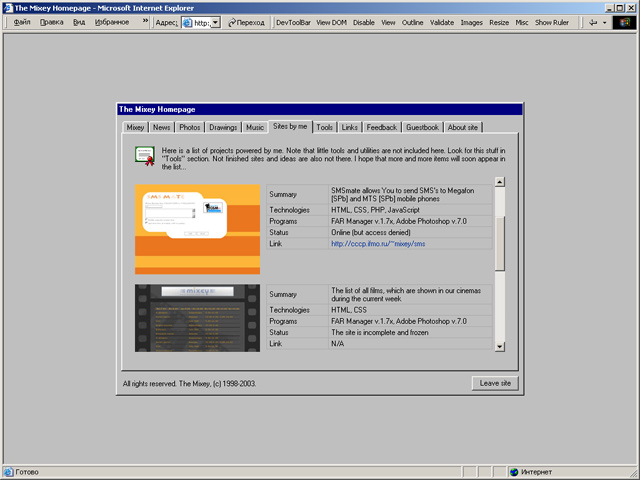 Раздел «Фотографии»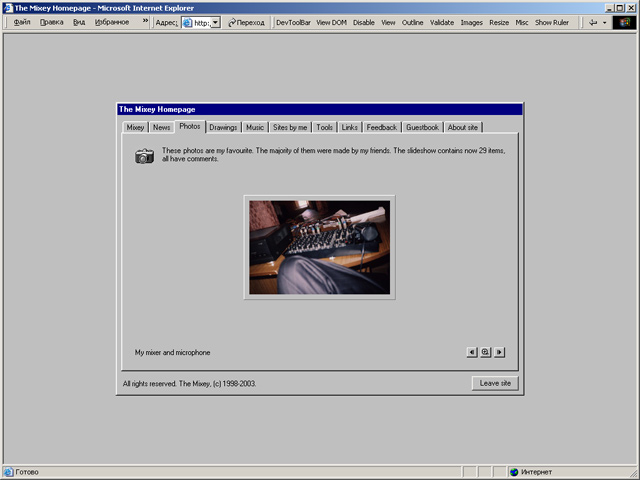 Жалко, что сайтов этих в полной версии не осталось (есть только версия 1.0) Нахожу остатки сайтовгде-то очень далеко на компе (места типа D:/web/mixey.spb.ru/2do/_old_2003_old/~trash/old_savemyself.html). Расстраиваюсь, что всекуда-то растерял, и я решаю сделать еще один сайт (этот). Запустить должен к новому году.